ONE-ON-ONE CLASSES FOR
STUDENTS OF ALL SKILL LEVELS
Chris considers himself both a teacher and a mentor.
He takes pride in his philosophy that 'one size does not fit all' and
enjoys watching his students blossom and grow under his guidance.
---
ABOUT CHRIS

Chris grew up playing guitar and at the age of twelve began. During the next six years, he learned all styles of guitar and deepened his knowledge of theory and technique. In college, friends asked Chris for lessons and a professor recommended Chris as an instructor to members of the community. It was then that Chris found his teaching career begin to flourish.
Chris' dream during high school had been to become a rock star. As time passed, he began reflecting on the various gifted and insightful teachers who had impacted him and he eventually decided to shift to teaching as a full time career. He now has over 15 years of instructional experience and his students find his seasoned knowledge and enthusiastic spirit to be contagious and inspirational.
CLASSES
Playing musical instruments should be fun! That's Chris Galat's manta and goal for each of his students. Chris is the proprietor and instructor of Carriage Town Music, a company that provides private acoustic and electric guitar lessons for all ages and abilities. With studios in two Massachusetts locations – Amesbury and Topsfield – Chris is able to accommodate his students' busy schedules.
How long/frequent are the music sessions?
Sessions can be anywhere from thirty minutes to an
hour and most students attend once each week.
What styles of music are taught?
Chris teaches acoustic, electric, classical, folk, blues and heavy metal.
Some students study several styles while others chose to focus on just one.
Do you teach children of all skill levels?
Carriage Town Music offers lessons to all ages and skill levels. Further, Chris has had experience working with students who are blind, dyslexic and autistic, as well as those who have Aspergers, ADD/ADHD and other special needs. Whether his student is 4 or 74, looking for lessons as a therapeutic experience, or just out to pursue a life-long interest, Chris' upbeat and nurturing disposition fosters an appreciation for the guitar as an instrument and for music in general.
Explore some of the musical genre's that Carriage Town students can learn. Return for more of the latest music samples of pieces taught to students.
TESTIMONIALS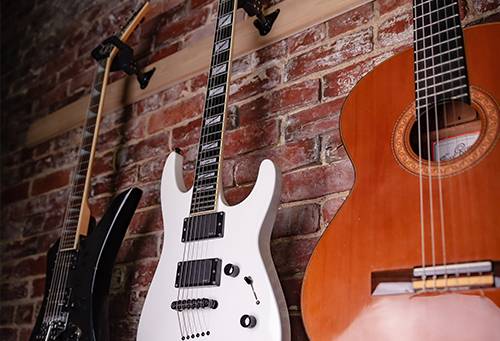 LET'S TALK
TEACHING ADDRESSES
Amesbury Studio:
14 Cedar Street
Suite 311
Amesbury, MA 01913
Topsfield Studio: